Are you one of the millions of men who own their own firearm? Whether you're thinking about purchasing your first firearm or adding another gun to your armory collection, there is a huge stock of beautiful weapons to choose from to suit the comfort of your use. Millions of Americans alone own their own firearm and it is a right and a privilege for men to have the ability to possess these fine pieces of technology and use them as tools for safety and production.
Self defense and protection against home invasion are the largest proprietors for the purchase of a personal firearm. Possession of a firearm does not guarantee safety, but having a gun available should any of the unfortunate incidents that do happen in the real world greatly ensures not only your survival but your family's. Handguns and shotguns are effective at close range for deterring all but the most determined attacker from continuing further action. While it has long been argued that gun control laws and police protection are the best solutions to these situations, we know that this is not true and as a man you have to take the protection of the lives of your loved ones and your own life as a personal responsibility.
Hunting is the most natural method to obtain quality meat as opposed to the hormone and antibiotic abundant industry farmed meat available at supermarkets.  Using a firearm sits at the pinnacle of hunting technology. Firearm manufacturers have developed various styles, calibers of ammunition, and practical applications that affect the accuracy and productivity while hunting wild game.
Handguns
GLOCK 41 .45 ACP

The G41 Gen 4 is a practical tactical .45 ACP caliber pistol.
Buy Now
BERETTA 92FS

Humid jungles, desert heat and snow-covered mountains – there is no environment on the planet that the Beretta 90 Series Pistols haven't seen. For years, Beretta pistols have been an issued side arm of America's armed forces giving them a long record of distinguished service. Count on their reliability and accuracy for personal or home protection.
Buy Now
BABY EAGLE II 9MM

The Combat Pistol of the Israeli Military. Based on the CZ75 pistol, Magnum Research's Baby Desert Eagle II shares the same ergonomic grip frame and distinctive operating features of this truly legendary handgun design. The Baby Desert Eagle pistol is assembled, fitted and finished in Israel.
Buy Now
CZ 75 SP-01

The CZ 75 SP-01 is the first full size handgun (4.6" bbl) from CZ to feature the improved manufacturing technology and ergonomics of the NATO-approved CZ 75 Compact P-01 model. Featuring an integral 1913 accessory rail on the dust cover, rubber grip panels, and CZ's corrosion resistant black polycoat finish, the SP-01 is the newest model to join the family of pistols based on the CZ 75 (SA/DA) platform.
Buy Now
SPRINGFIELD 1911-A1

The Springfield Range Officer now comes in 9mm and has the same quality forged frame and slide as the TRP™ and Trophy Match™ 1911s. The 9mm Range Officer gets the same precision fit as these pistols too. Add in the same stainless steel barrel and bushing, and you have a pistol that shoots well beyond its price tag.
Buy Now
SIG SAUER P320

Unlike any other pistol in its class, the SIG Sauer P320 Pistol feature a unique modular-grip frame and removable fire-control assembly that allow you to change calibers, sizes and fit for a truly custom experience.
Buy Now
WALTHER PPQ M2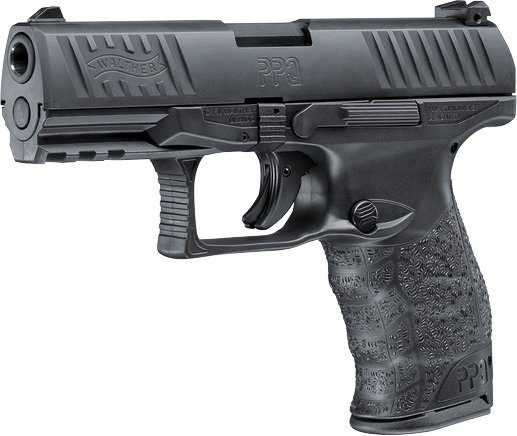 Designed for personal protection and law-enforcement use, the Walther PPQ M2® Centerfire Pistols are chambered in 9mm, .40 S&W and .45 ACP. With a striker fire action, they're enhanced with a smooth pre-cocked trigger at a constant pull of 5.6 lbs. for greater control and accuracy.
Buy Now
SHOTGUNS
MOSSBERG 930 SPX

The 930 Special Purpose gas system vents excess gas for recoil reduction and eliminates stress on operating components. Smoothly cycles 12-ga. 2-3/4″ and 3″ factory shotshells. For quick, convenient unloading, it has a quick-empty magazine release button. Receiver is drilled, tapped and ready for scope base and optics installation.
Buy Now
REMINGTON 870
Remington 870 Pump Shotgun -If the Model 870 were introduced today, it would be hailed as a major advance in pump-action shotgun design – the ultimate in strength, durability, silky-smooth bind-free action, and sleek classical lines. Yet this remarkable shotgun has been around for almost half a century, and has become the best-selling shotgun of any type in history, with over ten million made.
Buy Now
BENELLI M4

If your life depends on it, depend on the no-fail reliability of Benelli's M4 Tactical Semiautomatic Shotguns. These U.S.M.C.-approved defense shotguns boast a unique Auto Regulating Gas Operated (ARGO) system that guarantees rapid-fire reliability. Extended magazine and viper-fast semiautomatic put superior firepower at your disposal for maximum downrange effect.
Buy Now
WINCHESTER 101

The Winchester® Model 101 Ultimate Field is a fast-handling, smooth-swinging Over/Under Shotgun, made in Belgium to traditional Model 101 dimensions. At the heart of the 101 is a low profile steel receiver that enhances quick and instinctive shooting needed for upland hunting.
Buy Now
RIFLES
RUGER PRECISION RIFLE

Ruger's Precision Rifle features a medium-contour barrel which has an Ruger Precision Rifle Hybrid Muzzle Brake to effectively reduce recoil while minimizing noise and blast to the sides of the shooter. Its MSR stock with QD sling attachment points features a bottom Picatinny rail and soft rubber buttpad. The Marksman Adjustable trigger is externally adjustable with a pull weight range of 2.25 to 5.0 lbs.
Buy Now
REMINGTON 700

The legendary Remington Model 700 ADL is known worldwide for its accuracy and hunting prowess. Cabela's carries the legacy of this firearm forward with a special rifle/scope combo available in popular hunting calibers from .243 Winchester to .300 Winchester Mag. Outfitted with durable synthetic stocks and blued barrel, comes with a 3-9×40 scope.
Buy Now
VANGUARD WEATHERBY SERIES 2

Weatherby's Series 2 takes the proven advantage of their popular Vanguard action and gives it a whole new look, feel and level of performance. Every Vanguard Series 2 is guaranteed to shoot Sub-MOA (.99″ or less at 100 yards) right out of the box when used with specified Weatherby factory or premium ammunition.
Buy Now
BROWNING MARK II BAR SAFARI


Originally designed by Bruce Browning, this is the Browning Autoloading Rifle that started it all. Featuring fine Walnut, a precision machined ordinance steel receiver and a hammer forged barrel, this magnificent BAR will make autoloading enthusiasts out of the most skeptical riflemen.
Buy Now
Before you begin the process of purchasing your first firearm for personal use, ask yourself first, "What am I going to use my gun for?" and be prepared to receive proper training for the firearm that you choose. Once you have the answers to these questions in mind, and from there you can go about checking out the options you have for the different types of firearms that will suit your needs.